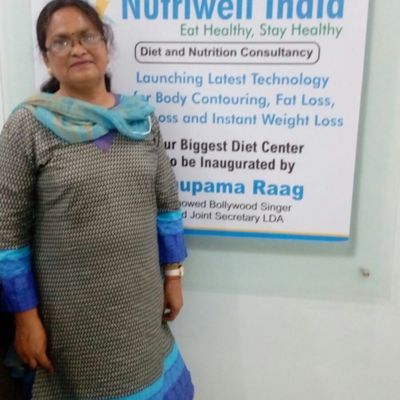 Healthy eating Diabetes 
Healthy eating diabetes: I did everything to control my sugar level. and weight. But I think the lack of motivation was not helping me at all.I came to visit Nutriwell on recommendation of my son. That single appointment changed my relationship with food and life. The weight loss diet in Diabetes are designed by the Doctor, Dr Surabhi Jain herself. The people at Nutriwell are very professional people but not insensitive to the need of clients. My every query and problem was addressed perfectly. This is the best dietitian clinic in Lucknow and their weight loss plans are very easy to follow. I was shocked that how sugar can be maintained with our food from kitchen. The Naturopathic formulation for Diabetes are awesome. If you are looking for the best weight loss diet with natural food then Nutriwell Is the destination. You can join their weight loss diet program with closed eyes. I have witnessed their magic. So, I would definitely recommend Nutriwell to everyone. No matter what you health issue might be, it is bound to get solved by the people here at Nutriwell.
Healthy eating diabetes
Check out more such stories here!
Our blog
Check out our other website here!